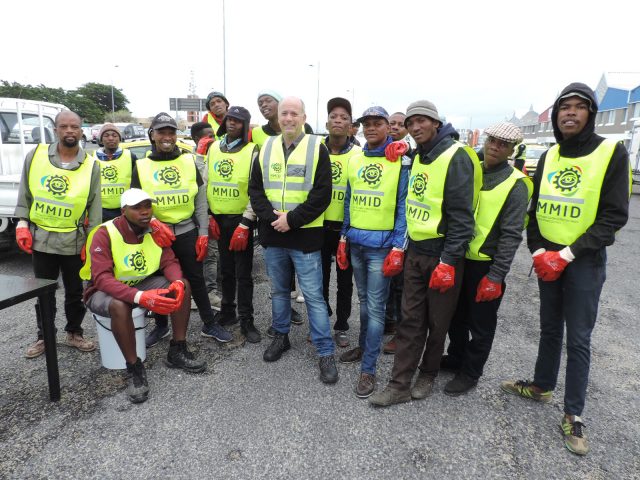 The Montague Gardens – Marconi Beam Improvement District (MMID) – organised a joint clean-up operation on the 5th of September with the City of Cape Town (CoCT) to remove tons of rubbish from the area. 
A combined total of over 100 people took part in the clean-up.
The clean-up focused on Koeberg Road, Omuramba Road, Station Road and the corner of Link and Montague Drive.
One of the benefits of the operation was that the MMID employed 20 unemployed people as part of their social development programme and the CoCT employed a further 45 unemployed people.
Besides removing many tons of rubbish and rubble, often the result of illegal dumping, the operation also served as a warning to criminals that there is now a dedicated public safety force operating in the area.
The MMID public safety officers will assist and co-operate with Law Enforcement and SAPS to enforce by-laws and reduce crime.
Law Enforcement officers from the CoCT joined the operation to deal with illegal traders and members of the CoCT Social Development department visited homeless people and vagrants living in the area.
The operation was a huge success and the MMID has since received positive feedback from both businesses and property owners.
The operation also highlighted the fact that illegal dumping in the area is a major problem that will require more than just the efforts of the MMID to solve.
Unfortunately some of the culprits taking part in illegal dumping are certain unethical and irresponsible businesses located in the area.
The MMID board of directors would like to thank the departments of Solid Waste, Law Enforcement and Social Development from the CoCT for their assistance on the day.
The board would also like to thank Econoloo, Plastics for Africa, Cash Converters (Montague Gardens) and Montague Gardens Hardware for either sponsoring or assisting with the operation.