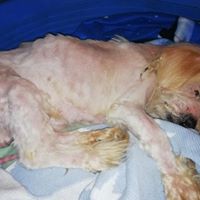 Last Sunday morning, the 23rd of September 2018, one of the MMID patrollers spotted household goods & other rubbish that had been dumped on the corner of Montague Drive & Link Road.
On closer investigation, Michael, the MMID patroller, heard yelps coming from a little wooden box. He broke the box open and found two small Maltese type dogs that were in a shocking state.
With the help of the Star Rapid Response Control room, Cheryl Lyn Potgieter of the Daisy Animal Rescue Trust was called to assist.
Cherlyn Lyn rushed them to a vet for medical attention and later to a dog parlour to bath and cut off the badly matted hair.
It appears that the dogs had been in the box for a long time. Their legs were stiff & deformed because of malnutrition. One of the dogs is nearly blind because of not seeing light for a long time.
The MMID extends its sincere appreciation to Cheryl Lyn and the Daisy Animal Rescue Trust. Please consider donating money or food and other goods to the trust. They do excellent work.